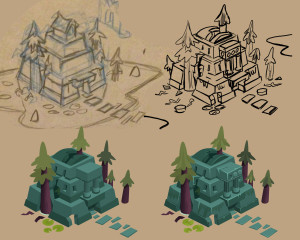 Here's a look at one of our new level select icons.
It all start with a thumbnail, top left, one of many quick scribbles in a sketchbook. The goal is to figure out the big volumes and see if you can arrange the elements in a pleasing and in this particular context a compact image. I was happy with the initial sketch but it's just the starting point, things evolve.
The thumbnail gets scanned and put into any isometric grid. I redo the thumbnail, finding a consistent shape that is unique compared to our other level icons. You'll notice that I changed the top level of the ziggurat, it was too similar to the Spookane icon. Once I have a solid sketch it's time to color thing in.
The first color pass is called "doing the flats". It's basically flat colors nothing extraordinary. The challenging part here is finding the right colors. I'll delve into color schemes in another blogpost. I've also added some soft shading, you'll notice that on the trees and the pillars. Shading in general should make your big shapes read better
Bottom right is the finished article. Nothing is ever finished but it's time to move on. I've added details, scratches and highlights. This phase is fun and gives you a nice polished look.
More to come!